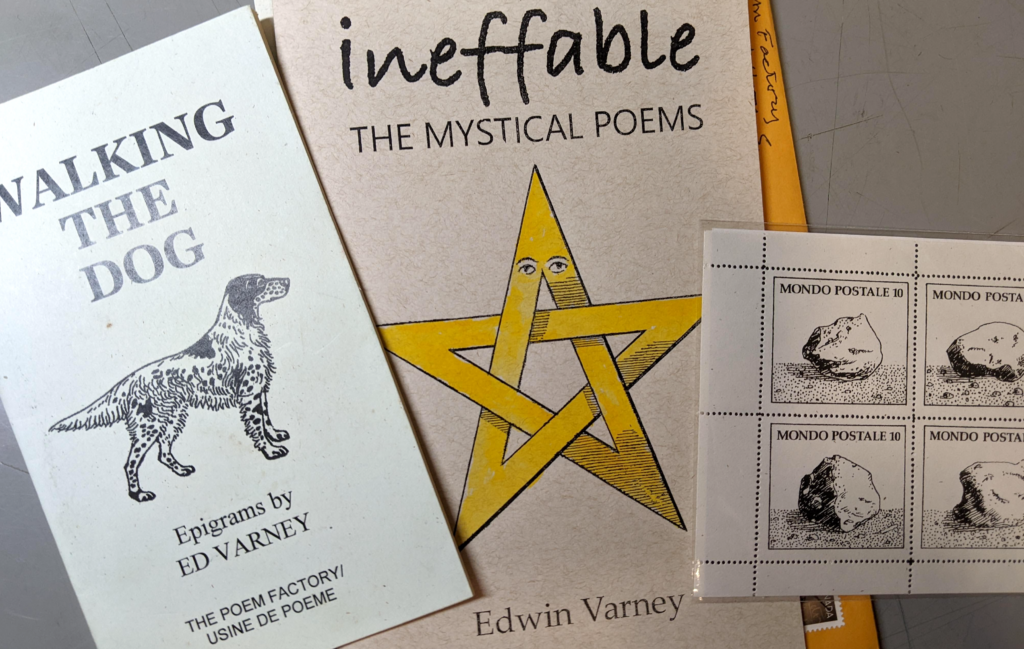 This nice packet of paper goods came in the mail from Ed Varney's "The Poem Factory" in Courtney, BC (on Vancouver Island). I initiated the exchange by sending the DADA of mail art 2 full sets of RML books (with a few more poetry chapbooks, added in). I asked him if he would, after keeping what he wanted, deposit them into Little Free Libraries in his region. These are the ones he kept:
In exchange, Varney sent Walking the Dog (2013), ineffable: The Mystical Poems (2022), and a small sheet of "Mondo Postale" artist-stamps (4-up).
In ineffable Varney, completely expert at designing, and circulating mail art chapbooks, lets his introduction to the collection of poetry run along the tops of each page. Underneath, a collection of poems recall a life of mystical gleaning.
From the top-margin introduction,
… I'm an old man now and I have nothing to gain or lose by revealing the secrets of the universe by perhaps you do. So I've collected some of my mystical writings in the hope maybe you will see intimations of your own experiences, maybe you will recognize your own brushes with cosmic consciousness, and reflect on what it has meant to you."
Lois Klassen