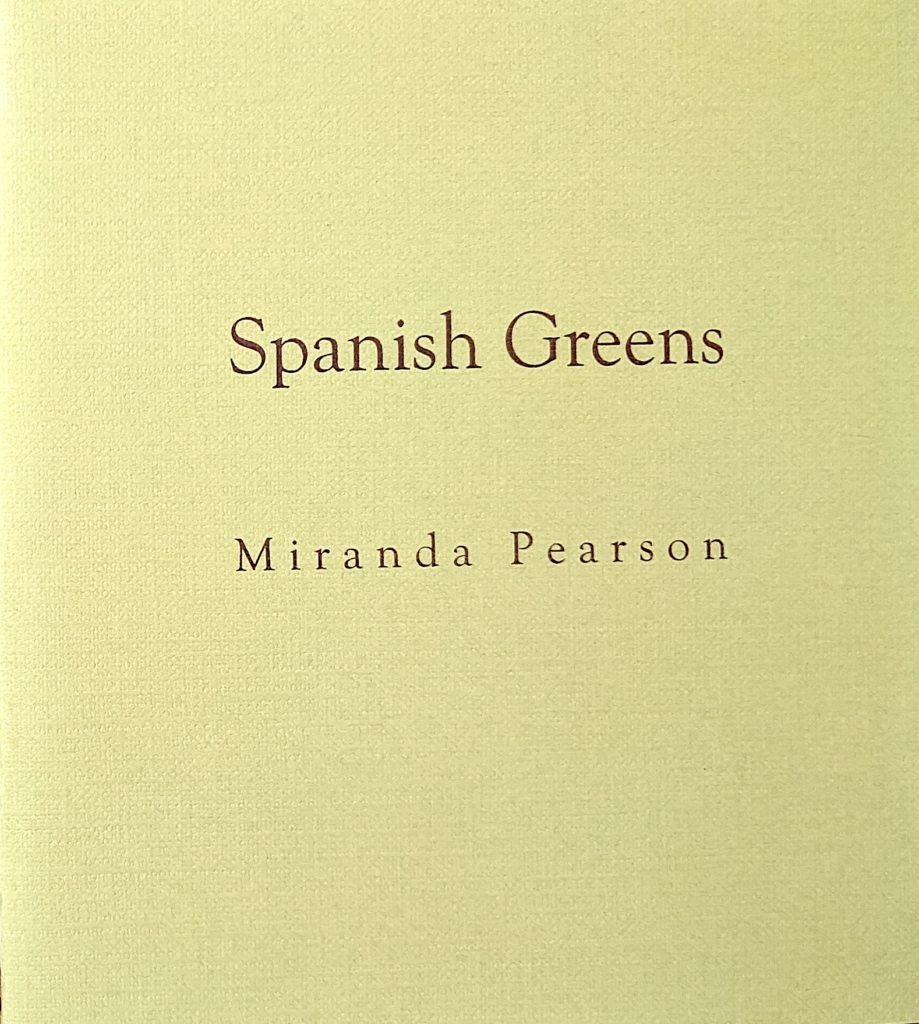 Title: Spanish Greens
Author; Miranda Pearson
Designer: Lois Klassen
Date: 2006
Pages: 24
Language: English
Dimensions: 5″ (126 mm) x 5.5″ (140 mm)
Cover: Printed art paper cover with printed endpages (some with Daphne fiber paper from Nepal and some with Mulberry fiber paper from Thailand). There is also a glassine fly leaf.
Binding: 3-hole sewn binding with linen thread
Printing: Digital printing
Colour: Brown text on coloured paper cover and black text on cream coloured pages in the interior
Edition: 1 – 60; A – Z (and 4 artist proofs)
ISBN: 0-9781082-0-5
Price: $25
Spanish Greens is a sister to Jane.
Spanish Greens is comprised of a single long poem by Miranda Pearson. The words record an extended transition in a lovers' relationship, from the act of examining losses and mistakes in a therapist's office to a view of a removal van pulling away from the home.
(burn the fucking bed, the King-size
slaughter-house, with its various juices,
the vigorous oils of the human)

Of course the notion of perfection is still compelling–
it helps disprove our fear of disintegration
though sometimes–

she still remembers Spain, that dark place.
The lemon perfume of the nameless white flower
she has searched for ever since.

Love
flushed away like zygots. Wine glasses
arranged in their daily rows, tickets
to the symphony. And look, it's spring again,
. . . . "
Spanish Greens was set with Goudy Old Style type on Winter, a Powerbook G4 (Mac computer). The book was greatly aided by work parties with friends of LFP.