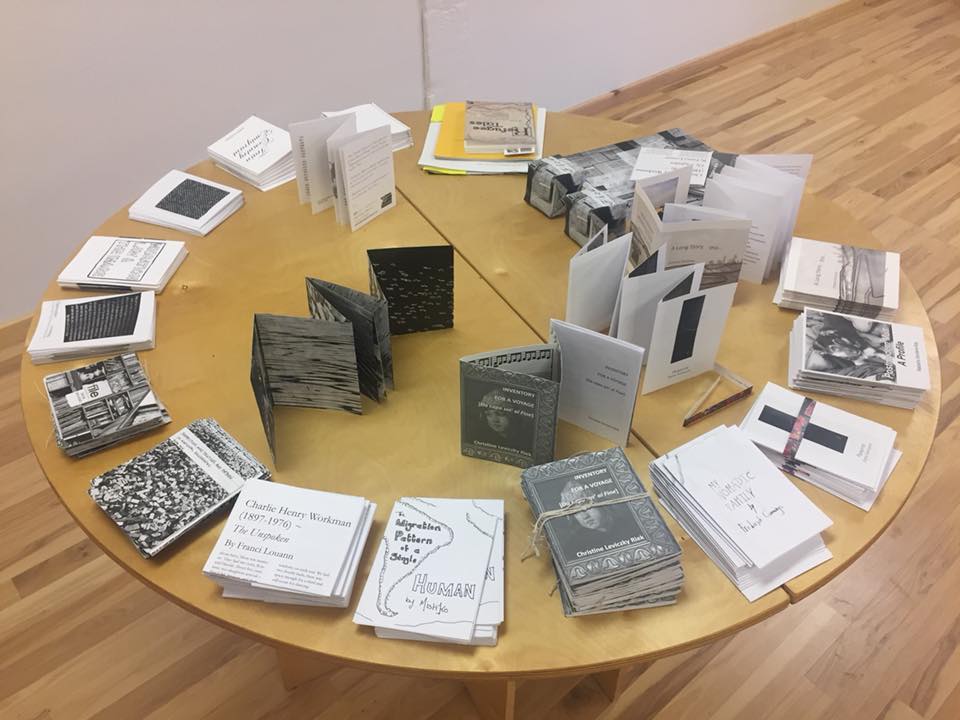 Imagine the world's entire migration library as a vast archive that, like its subject, refuses to be confined within a single location."
Reading the Migration Library (RML) is an art project about migration and publishing. Hosted and coordinated by Vancouver-based artist Lois Klassen, RML is comprised of artist book production, workshops, studio work, exhibitions, readings and performances.
La versión en español de esta página aquí.
Where are RML books available?
RML books are free for download. Print copies (most RML books are made in editions of 100) are available by exchange. If you have made a 'zine or artist book about migration, it can be exchanged for any RML titles through the mail (see details here – mail art exchanges). Publicly accessible libraries and collections can purchase the entire boxed collection (see details here – RML box and subscription).
How can people get involved as collaborating artists or contributors?
There are currently three ways to collaborate on the production of RML books:
Make and exchange an artist book about migration through the mail art exchange. The project accepts "books" in any mail-able form or size. RML also accepts works on the topic of migration that are made in other media forms. Mail art (or electronic/online art) can be exchanged for any of the titles in the RML book list. When we receive mail art (or electronic/online artworks) they will be featured in the mail art gallery. The mailing address is: Reading the Migration Library 1140 East 33 Avenue, Vancouver, Canada V5V 3B2. Digital or online submissions (links and descriptions), or questions, can be sent to lightfactorypublications@gmail.com
Use the RML-Book template* (design by Victoria Lum, 2020) for your text and/or images. We will convert your content into print files that can be used to print it in black and white. The final files will be posted with RML books. InDesign files of the template are available if you want to do the layout yourself. For InDesign files contact – lightfactorypublications@gmail.com
If you have an idea for a collaborative artist book project (printed in an edition of 100), you are invited to send us a pitch or inquiry. The paid commissions for 2021 have already been awarded but we are always interested in hearing about potential future projects. Contact lightfactorypublications@gmail.com
Where and when do RML events happen?
RML has appeared in many territories but most of its production takes place on the unceded territory of the Coast Salish Peoples, including the territories of the xʷməθkwəy̓əm (Musqueam), Skwxwú7mesh (Squamish), and Səl̓ílwətaʔ/Selilwitulh (Tsleil-Waututh) Nations, what is now referred to as Vancouver, BC, Canada.
RML has been hosted by 37 Looe Street (Plymouth, UK), CVAG (Courtney, BC, Canada), Vancouver Black Library, Richmond Public Library, Unit/Pitt Projects (Vancouver, Canada), "Tertulia" VLACC (Vancouver Latin American Cultural Centre), Universidad de Antioquia (Medellin, Colombia), The Reach Gallery Museum (Abbotsford, BC, Canada), Federation of BC Writers, Stitch-In Dunlop Art Gallery (Regina, SK, Canada), Union Gallery Queen's University (Kingston, ON, Canada), Agnes Etherington Art Centre (Kingston, ON), Sala-Manca, Poetic Justice / Poetry New West, Anvil Centre Artist-in-Residence Program (New Westminster), BRUNA Press + Archive (Bellingham, WA, US), YACTAC (Vancouver, Canada), Santa Fe Art Institute Immigration/Emigration Residency and Santa Fe Radio Cafe.
RML would not have been possible without financial and in-kind support from Santa Fe Art Institute, Canada Graduate Scholarships – Michael Smith Foreign Study Supplements (Social Sciences and Humanities Research Council of Canada), The Graduate Dean's Travel Grant (Queen's University), Graduate Research-Creation/Community-Based Research and Action Fund (Queen's University), British Columbia Arts Council (2020 and 2023) and Canada Council for the Arts (2020 and 2023).
Subscribe to the RML newsletter.