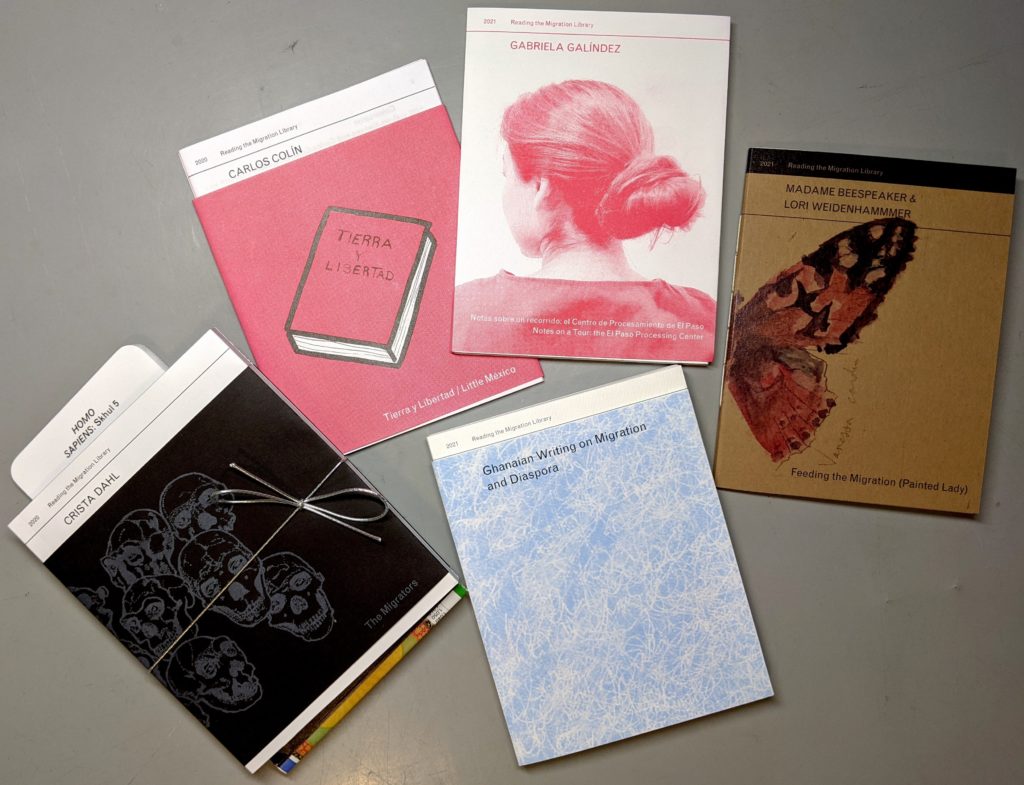 How does a socially-situated art project adapt to a prolonged pandemic? It takes up artist book publishing !!
At RML headquarters the pandemic shut-downs of 2020/21 coincided with first-time research-creation project funding from BC Arts Council and Canada Council for the Arts. Whereas the original plan for this sponsorship was to support modest publication projects, and then to offer wider circulation of the project through travel and events, the pandemic demanded a turn to studio-based activities. Thanks to the flexibility of the sponsors, RML was able to shift and focus on a more cohesive artist book production approach.
To visually and thematically link the new publications, which were expected to include highly varied subject matter, multiple languages, aesthetics, and even materials, Vancouver-based designer Victoria Lum was brought on board. Lum came up with a unifying template that would both contain and make legible and approachable RML's diverse content. Sticking to the 1/4 letter-sized sheet size (106 x 141mm) overall, the new design recalls the unity of mid to late twentieth century book series designs. Intellectual and academic texts like "Foreign Agents" from Semiotext(e) and the Penguin Classics series, which both used small and affordable formats to to bring thoughtful content to wide audiences, were inspirations during the RML design process. The consistent look of variously tattered books-in-series, like textbooks on classroom shelves, was recalled as signifying public distribution of unwieldy and incomplete cultural knowledges.
The 2020/21 RML Design presents a broad open space that runs over the front and back cover that can be used for featured imagery, textures, or colours, layered behind the title line near the bottom of the front cover. This open space has been used as a coloured "belly band" that holds together the folded poster and pamphlet in Carlos Colín's Tierra y Libertad / Little México, in the set Ghanaian Writing on Migration and Diaspora, and it was used for a cropped, riso-printed dust cover in Crista Dahl's The Migrators. It also holds a full-colour painting of a butterfly whose wings span both sides of the book in Feeding the Migration (Painted Lady) by Madame Beespeaker and Lori Weidenhammer. Consistent in all of the books in this series is how the date, title, and author name are carried as a heading with a bounding line at the top on the covers and, with some modification, inside each of the pages. Inside the pages the sans serif heading (Monotype) extends to the page numbers. Otherwise the internal texts are set in EB Garamond.
Books in the 2020/21 RML series are:
The template is available for others to use. Consider using it (modifying it) for artist books made for RML Mail Art Exchange.
Copyright : Attribution-NonCommercial-NoDerivatives 4.0 International (CC BY-NC-ND 4.0 ) License. Content copyrights remain with listed contributors.