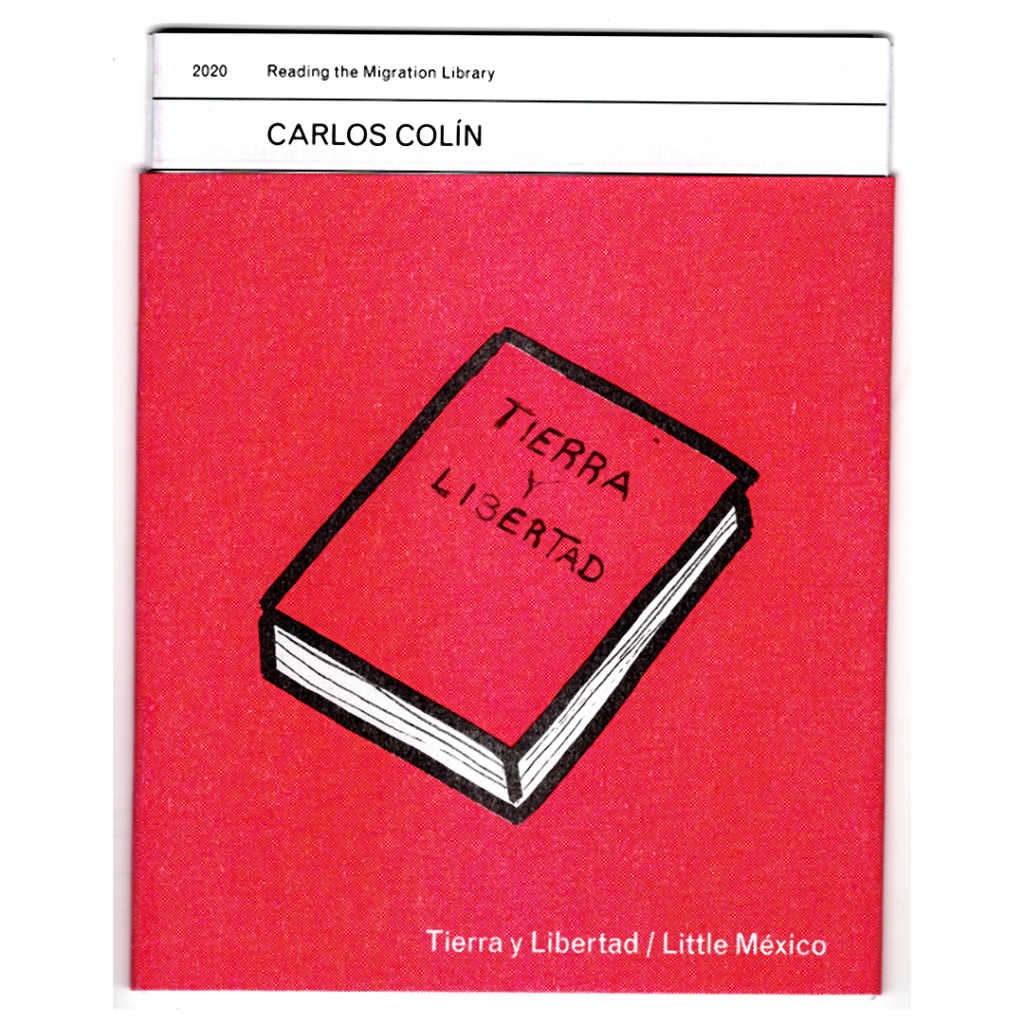 Title: Tierra y Libertad / Little México
Artist: Carlos Colín
Contributor: Dignidad Migrante Society
Writer and Editor: Lois Klassen
Designer: Victoria Lum
Date: 2020
Pages: 16-page signature; 8-page folded book
Language: English and Spanish
Dimensions: 4.25″ (106 mm) x 5.5″ (141 mm)
Cover: Riso-printed belly band
Binding: Saddle stitch (stapled) signature; flutter book folded pamphlet
Printing: Signature (text pages) is digitally printed; flutter book and belly band are riso-printed by Moniker Press in Vancouver, Canada
Colour: Colour risograph printing of belly band and flutter book; black and white text
Edition: 99
ISBN: 978-1-988895-22-2 (artist book with folded flutter book, signature pamphlet and belly-band cover); 978-1-988895-21-5 (flutter book)
Copyright : Attribution-NonCommercial-NoDerivatives 4.0 International (CC BY-NC-ND 4.0 ) License). Content copyrights remain with listed contributors.
RML titles are available through mail exchange or free download. To receive this book by exchange: Mail your artist books on migration or diaspora (or related mail art), with your requested RML title, and your address to
Reading the Migration Library
#204-2075 Yukon Street
Vancouver
Canada V5Y 3W3
RML subscriptions and purchases: Libraries and other public collections are invited to arrange to purchase a complete set or subscription of RML artist books, contact us at lightfactorypublications@gmail.com
In the summer of 2020, as hundreds of foreign agricultural workers tested positive to COVID19 while located in Canada—a situation that prompted the Mexican Government to suspend travel of workers to Canada for a few days—I took to up a physically distant conversation with Carlos Colin, in writing. The email format enabled a multi-lingual dialogue, with Carlos helping to make my beginner (on-line translated) Spanish readable, in exchange for a few English edits from me. I began by asking him about the recent exhibitions I had seen of his work, which brought Mexico into a local and critical context. We eventually got around to talking about his cultural service work with the organization, Dignidad Migrante. . . .
This publication includes a bilingual flutter book pamphlet that is designed to be included in the mobile Spanish language free library that the artist helped to set up for Mexican Temporary Foreign Workers (TFWs) in the Fraser Valley, near Vancouver, Canada. Boxes of books are available on farms for TFWs to borrow and enjoy. These mini-bibliotecas were initiated in conjunction with Colín's exhibition, Little México, that took place at The Reach Gallery Museum in 2019.
Watch the recording of the book launch for Tierra y Libertad / Little México,
This project would not have been possible without the Government
of BC funding through the BC Arts Council.