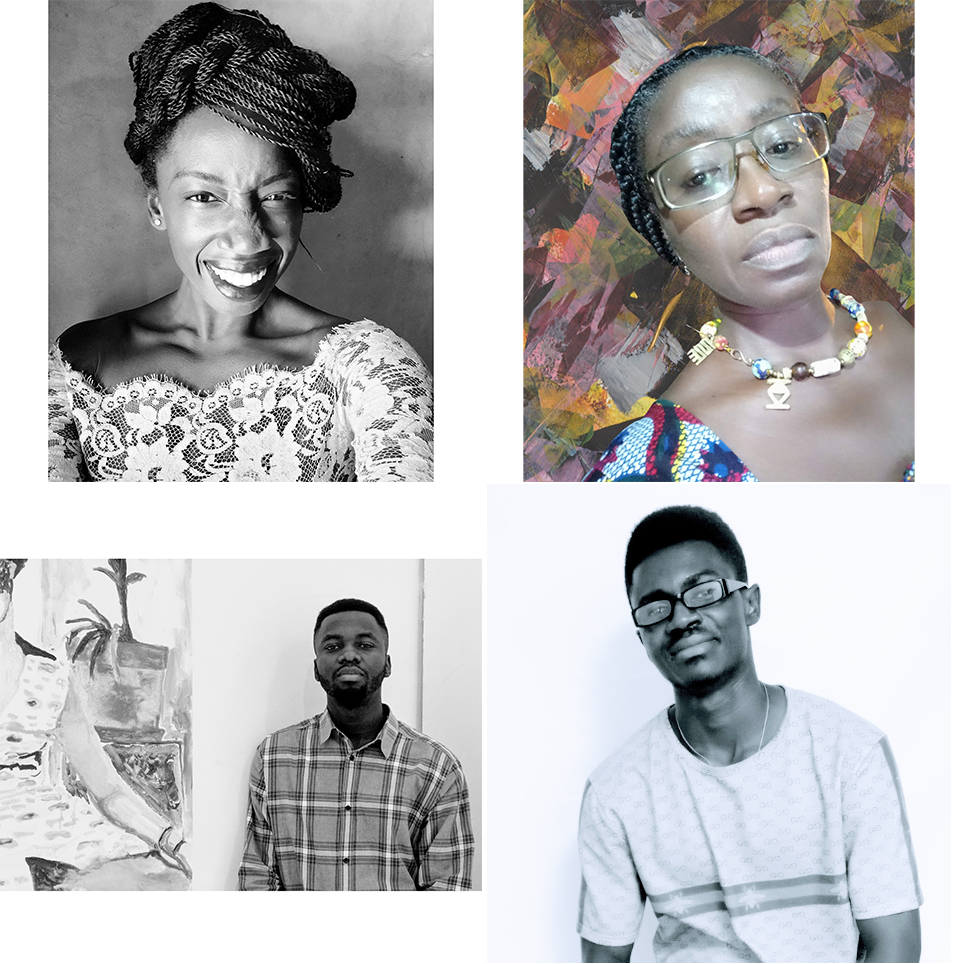 June 1, 2021 – Library of Africa and the African Diaspora (LOATAD) of Accra, Ghana along with Light Factory Publications (LFP) are very excited to present the four Ghanaian writers who have been selected for a special Reading the Migration Library (RML) series on Ghanaian writing about diaspora.
Sally Afia Antwi Nuamah ("SAAN") is a Ghanaian-American scholar, activist, writer and filmmaker doing work at the intersections of race, gender, education, and politics in the U.S. and Africa. She is the author of the multi-award winning book, How Girls Achieve, the creator of the film, HerStory, and the founder of the TWII Foundation, which provides scholarships for girls in Ghana to be the first in their families to go to college.
A.B. Godfreed (a creative persona) writes poetry and narratives, as well as produces iCollective Art and experimental beatmixes, which are shared on A.B. Godfreed Prosetry & Pic(k)s and various social media platforms (Medium, Instagram, Pinterest, Twitter, Soundcloud, and Facebook). A.B. Godfreed engages in these eclectic endeavors as a way of creating "work that makes life sweet", while also highlighting diversity and yet epigenetically entangled oneness—in all its intelligence and beauty.
Jay Kophy is a Ghanaian poet whose poems have been featured and are forthcoming in literary magazines such as AGNI, Lolwe, FourWay Review, PidgeonHoles, Indianapolis Review, Glass Poetry, Tampered Press, and many others. He is the winner of the inaugural Samira Bawumia Literature Prize in poetry. He's also the curator and editor of the following anthologies: to grow in two bodies, How to Write My Country's Name and Equanimity.
Gabriel Awuah Mainoo, special prize winner of Soka Matsubara international Haiku contest, winner of Forty Under 40 Awards for Authorship and Creative Writing, and semifinalist of the Jack Grape International Poetry Prize, is the author of Travellers Gather Dust and Lust, Chicken Wings at the Altar, 60 Aces of Haiku, and Lyrical Textiles (forthcoming, Illuminated Press, USA). He serves as project manager for Ghana Writes Literary Group, creative editor for WGM magazine and African poetry editor for Better Than Starbucks Poetry and Fiction Journal. Mainoo's writing has appeared in The Cicada's Cry (US), An Attempt at Exhausting a Place in Leicestershire (UK), Writers Space Africa, Fireflies' Light (Missouri Baptist University), Libero American Journal, aAH! Magazine (Manchester Metropolitan University), Kalahari Review, Wales Haiku Journal, EVENT, The Mamba, Ghana Writes Journal, The Haiku Foundation, Nthanda Review (Malawi), Best New African Poets anthologies (2018, 2019, 2020), Bodies & Scars, Black Bamboo, Poetry Leaves Bound Volume, Quesadilla and Other Adventures: Food Poems, among others. Mainoo is a tennis professional in the morning, a student in the afternoon, and writer in the evening.
The Ghanaian Writing on Diaspora Publications
The poetry selected from these writers considers the impact of forced and voluntary migration inside of Ghanaian histories and cultures. Their works will be produced in a set of three chapbooks which will be released in a print edition of 100, and as a downloadable digital document here. Watch for the releases in July, 2021, as well as with a public launch event to follow. The selected Ghanaian writers join the other RML artists and writers who, since 2017, have participated and collaborated in Reading the Migration Library, an artist publishing project that aims to creatively and critically reflect on migration in our cultures and environments.
About the LOATAD/RML Jury

Sylvia Arthur is the founder of the Library Of Africa and The African Diaspora (LOATAD), an Accra-based decolonised private library, archive, and writing residency dedicated to the work of African and Diaspora writers from the late 19th-century to the present day. Founded in 2017 with 1,300 of Arthur's own books, LOATAD's collection now contains about 4000 books by, and ephemera from, writers from 44 of Africa's 54 countries and Black authors from the Americas, the Caribbean, Europe, and around the world.
Otoniya J. Okot Bitek is an Acholi poet. Her collection, 100 Days (University of Alberta 2016), reflects on the meaning of memory two decades after the Rwanda genocide, and was nominated for several writing prizes including the 2017 Canadian Authors Award for Poetry. Otoniya has been a Poetry Ambassador for the City of Vancouver and was the Ellen and Warren Tallman Writer-in-Residence in the English Department at Simon Fraser University. She was also a Jack and Doris Shadbolt Fellow in the spring of 2021.
Lois Klassen is the founder and artist host of Reading the Migration Library.
This project would not have been possible without the Government
of BC funding through the BC Arts Council and Canada Council for the Arts.