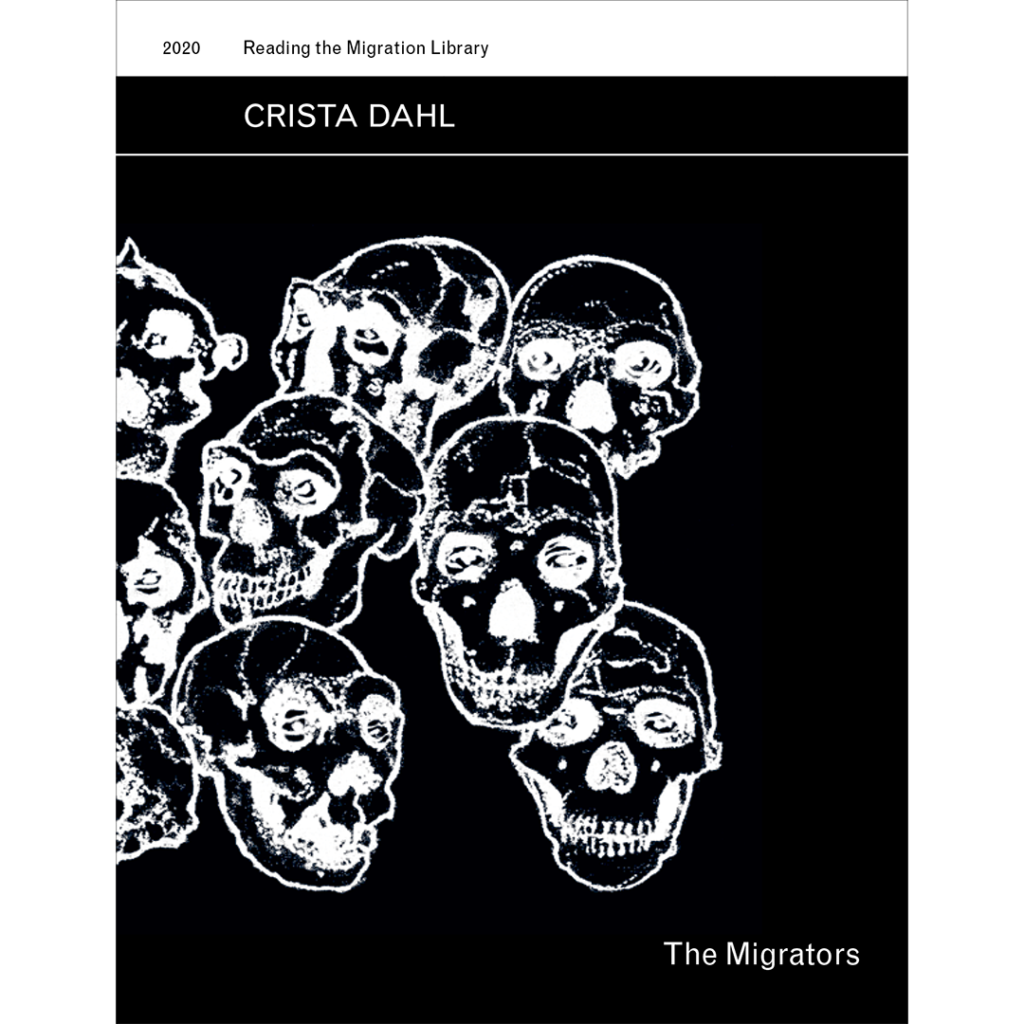 Title: The Migrators (in press, coming soon!)
Artist: Crista Dahl
Authors: Crista Dahl, Jairo Salazar, Lois Klassen
Editor: Lois Klassen
Designer: Victoria Lum
Date: 2020
Pages: Book – 45 pages, with 15 loose cards (double-sided) and a double-sided poster
Language: English
Dimensions: 4.25″ (106 mm) x 5.5″ (141 mm)
Cover: Soft cover
Binding: Perfect binding
Printing: Cover is riso-printed by Moniker Press; book pages and card are digitally printed; poster is off-set printed
Colour: Black and white book and cards; full colour poster
Edition: Full package – 200; Poster – 300
ISBN: Bookwork (book, cards and poster together) – ISBN 978-1-988895-20-8; Poster – ISBN 978-1-988895-23-9
Copyright : Attribution-NonCommercial-NoDerivatives 4.0 International (CC BY-NC-ND 4.0 ) License). Content copyrights remain with listed contributors.

The print copy and downloadable pdf are coming soon! (Projected release date – November 1, 2020)
The Migrators documents a long range project which puts the migrations of Dahl's friends and colleagues into intimate conversation with the activities of our earliest hominid ancestors. Montaged prehistoric skulls and Dahl's innovative mapping of the contemporary and prehistoric in space and time are all contained in a packet including: a handbook, collectible cards and poster-sized time and space charts. The images and concepts that are featured in this bookwork are components of Crista Dahl's larger Life Rhythm project. An essay by Jairo Salazar positions Dahl's innovative methods of image gathering and sorting alongside the early twentieth century work of Aby Warburg whose Atlas Mnemosyne restructured the way history was recorded through images of art that were positioned in emotive arrangements.