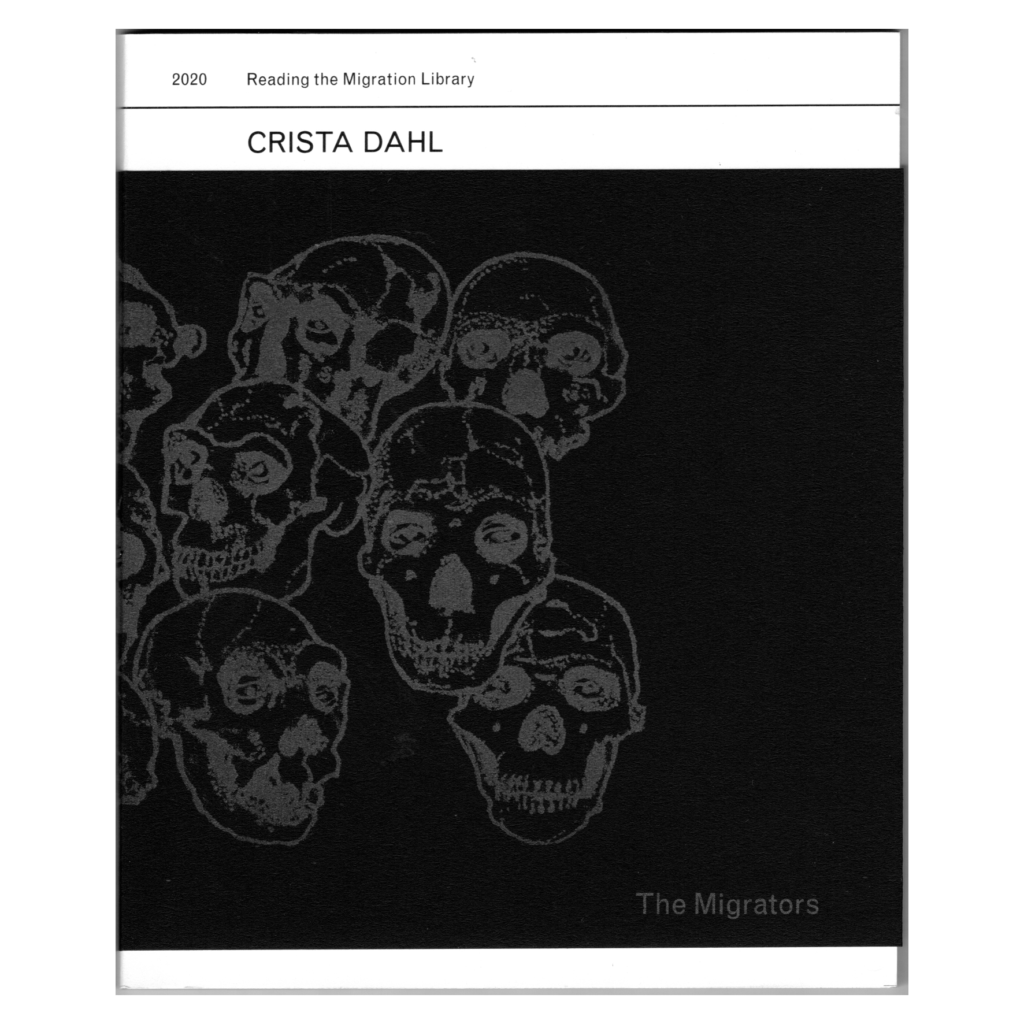 Title: The Migrators*
Artist: Crista Dahl
Authors: Crista Dahl, Jairo Salazar, Lois Klassen
Editor: Lois Klassen
Designer: Victoria Lum
Date: 2020
Pages: Book – 84 pages, 15 loose cards (double-sided) and a double-sided poster
Language: English
Dimensions: 4.25″ (106 mm) x 5.5″ (141 mm)
Cover: Soft cover
Binding: Perfect binding
Printing: Wrap-around cover is riso-printed (Moniker Press); book pages and card are digitally printed; poster is off-set printed
Colour: Black and white book interior and cards; cover is printed in grey ink on black paper; full colour 2-sided poster
Edition: Full package – 200; Poster – 400
ISBN: Artist book, cards and poster combined – ISBN 978-1-988895-20-8; Poster alone – ISBN 978-1-988895-23-9
Copyright : Attribution-NonCommercial-NoDerivatives 4.0 International (CC BY-NC-ND 4.0 ) License). Content copyrights remain with listed contributors.
*Note: Viewers are advised that this publication includes photographs of archeological specimens that are actual remains of humans and other hominid species.
To receive a print copy of this book by exchange: Mail your artist books on migration or diaspora (or related mail art), with your requested RML title, and your address to
Reading the Migration Library
#204-2075 Yukon Street
Vancouver
Canada V5Y 3W3
RML subscriptions and purchases: Libraries and other public collections are invited to arrange to purchase a complete set or subscription of RML artist books, contact us at lightfactorypublications@gmail.com
The Migrators documents a long range project which puts the migrations of Dahl's friends and colleagues into intimate conversation with the activities of our earliest hominid ancestors. Montaged prehistoric skulls and Dahl's innovative mapping of the contemporary and prehistoric in space and time are all contained in a packet including: a handbook, collectible cards and poster-sized time and space charts. The images and concepts that are featured in this bookwork are components of Crista Dahl's larger Life Rhythm project. An essay by Jairo Salazar positions Dahl's innovative methods of image gathering and sorting alongside the work of Aby Warburg (1866-1929) whose Atlas Mnemosyne restructured the way history was told by way of images in emotive arrangements.
A recording of the launch of The Migrators is here,