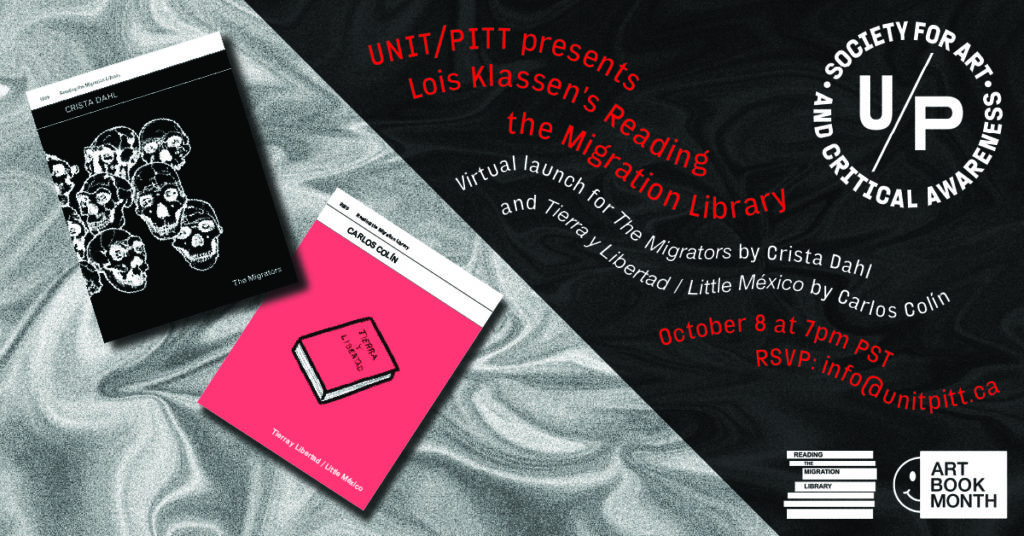 UNIT/PITT presents Lois Klassen's artist book project, Reading the Migration Library for Art Book Month 2020, featuring Crista Dahl & Carlos Colín ~As part of Art Book Month 2020. This event launches the two most recent publications in the project, Crista Dahl's The Migrators and Carlos Colín's Tierra y Libertad / Little México.
Crista Dahl's The Migrators documents a long range project which puts the migrations of Dahl's friends and colleagues into intimate conversation with the activities of our earliest hominid ancestors. Montaged prehistoric skulls and Dahl's innovative mapping of the contemporary and prehistoric in space and time are all contained in a packet including: a handbook, collectible cards and poster-sized time and space charts. An essay by Jairo Salazar positions Dahl's innovative methods of image gathering and sorting alongside the early twentieth century work of Aby Warburg whose Atlas Mnemosyne restructured the way history was recorded through images of art that were positioned in emotive arrangements.
Carlos Colín's Tierra y Libertad / Little México is comprised of a folded poster that functions as a pamphlet with information about a lending library for temporary farm workers, and a bound signature with texts. A conversation between Carlos Colín and Lois Klassen reviews Colín's approach to cultural work alongside the agricultural demands made of Mexican farm workers, and the role of free and open distribution systems in art as well as community programs.
These new publications in Reading the Migration Library were enabled by Visual Art Project Assistance from the BC Arts Council.
The launch included readings by past RML authors and artists: Deanne Achong, Natasha Sanders-Kay, Franci Louann, and Christine Leviczky Riek.
Vancouver Art Book Fair's Art Book Month is a parallel series of events hosted in spaces across Vancouver by a variety of artists, curators, collectives and institutions who are actively creating and presenting work in this medium.
UNIT/PITT is grateful to operate, virtually and otherwise, on unceded lands belonging to the Musqueam, Squamish, and Tsleil-Waututh First Nations.