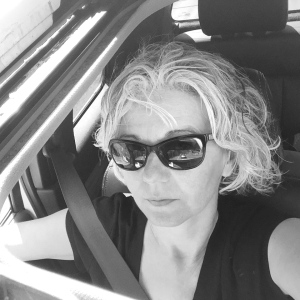 Christine Leviczky Riek is a poet and photographer from Surrey BC. Her poetry has been published in The Capilano Review, Pulp Literature, and Emerge17. Besides Inventory For A Voyage [da Capo sin' al Fine], Riek published the chapbook, hard hack flat: songs of the nicomekl, vol. 1, by her own Water Moth Press. Riek was a semi-finalist for the Capilano Review's 2019 Biofiction Prize, the 2018 1st runner-up for Pulp Literature's Magpie Award for Poetry, and the 2017 winner of the Robin Blaser Poetry Prize awarded by The Capilano Review. A 2017 graduate of SFU's The Writers' Studio and a 2016 graduate of the Southbank Writers' Program, she is working on her first docu-poetry manuscript, A Silkworm in Winter, about her ancestors in the Carpathian Mountains of Central Europe. 
Her photographs have been shown throughout the Vancouver area: Surrey Art Gallery, Surrey Public Library, Turnbull Gallery, AlexFest, Maple Ridge ACT Gallery, The Fort Gallery, Pendulum Gallery, White Rock Community Gallery, the White Rock Pop-Up Gallery, and the SnackArt Collective in the Eastside Culture Crawl. She currently has a photograph hanging at the International Centre of Photography in New York, in their exhibit #ICPConcerned: Global Images for Global Crisis. She has contributed 300 photographs to the Vancouver Heritage Foundation's Heritage Site Finder, a visual inventory of the city's built heritage.
Christine Leviczky Riek describes and reads from Inventory for a Voyage [Da capo sin' al Fine] in this video that was recorded at a Reading the Migration Library event during Art Book Month, on October 8, 2020.
List of Books by Artist