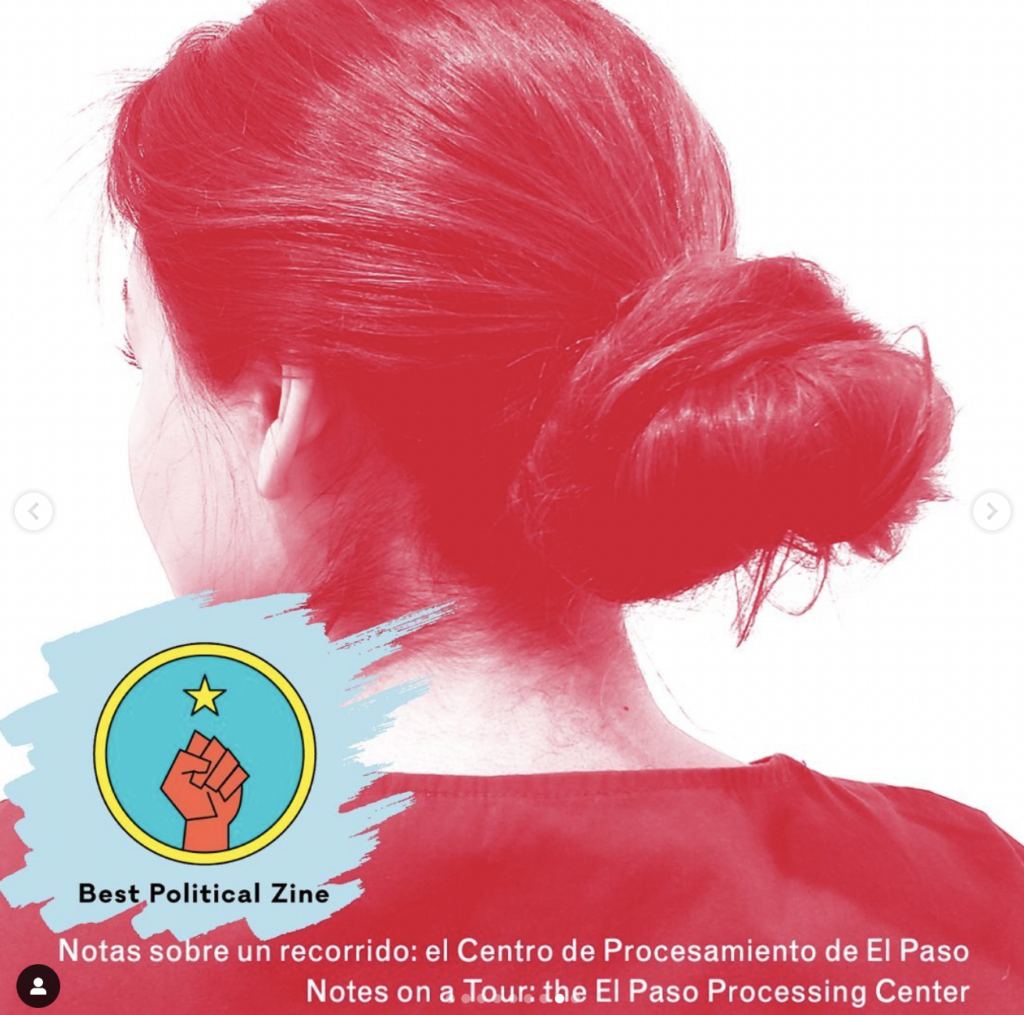 Reading the Migration Library is proud: Notas sobre un recorrido: el Centro de Procesamiento de El Paso / Notes on a Tour: the El Paso Processing Center by Gabriela Galíndez has been awarded the 2022 Broken Pencil Award for Best Political Zine!
Also involved in this 'zine are Victoria Lum and Ruby Lewis who worked on the book design and construction. The riso printing was done by Moniker Press in Vancouver. Eduardo Bouche edited the Spanish text. Congratulations everyone!
BP Zine Store is carrying this zine, along with the other winners. All proceeds from sales, along with the prize money, will go to Dignidad Migrante.
This bilingual (Spanish and English) artist book is a folded guidebook to the interior of a US immigration detention centre. It is created from the perspective of an El Paso-based artist and graduate student who joins an official tour offered by the centre's administrators. The texts and notebook drawings serve as witness to the inconsistencies and thinly veiled human rights violations that are commonplace in the everyday operations of national border regimes.
From the 'zine,
En Marzo del 2020, las visitas al centro de procesamiento fueron canceladas debido a COVID-19. Mi acceso a las personas en el centro a través de mi trabajo disminuyó. Intenté escribirle a varias personas, pero mis cartas fueron devueltas por la oficina de correo o el centro de procesamiento.
By March 2020, visitation at the processing center was closed due to COVID-19. My access to people inside the facility through my volunteer work decreased. I tried writing to multiple people, but my letters were returned either by the post office or the processing center."
Gabriela Galíndez is from the El Paso, TX / Ciudad Juárez, MX region. She currently resides in Aspen, Colorado and is the School, Youth, and Family Programs Manager at the Aspen Art Museum. Her artwork is mainly focused on political and social issues. She received her Master's in Latin American and Border Studies from the University of Texas at El Paso (UTEP) and her Bachelor's in Fine Arts from the School of Visual Arts (SVA) in New York. Galíndez is a recipient of the 22nd Annual Outstanding Student Achievement Award in Contemporary Sculpture from International Sculpture Center.
Notas/Notes is available for download or exchange here – https://lightfactorypublications.ca/rml-books/rml-notas-sobre-un-recorrido/