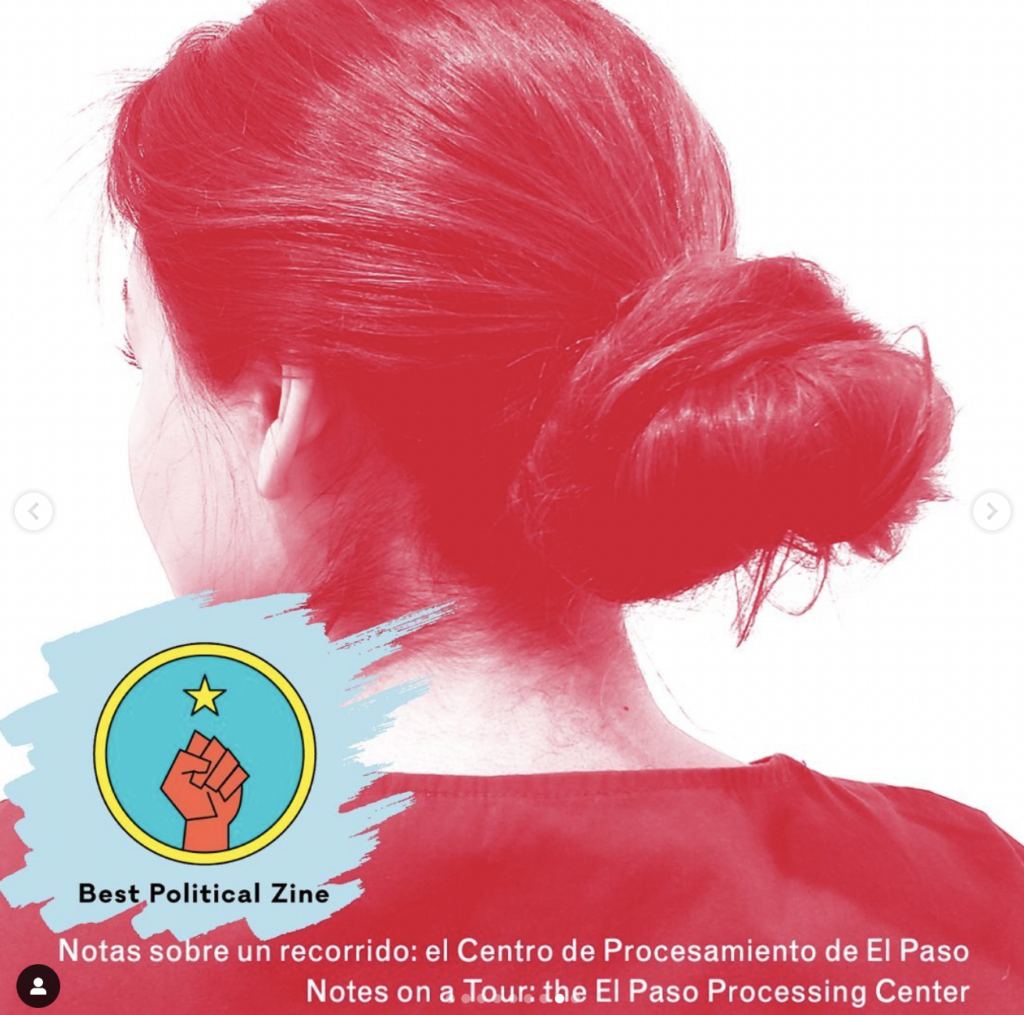 Title: Notas sobre un recorrido: el Centro de Procesamiento de El Paso / Notes on a Tour: the El Paso Processing Center
Artist: Gabriela Galíndez
Editor: Lois Klassen
Designer: Victoria Lum with Lois Klassen and Ruby Lewis
Date: 2021
Pages: 24
Language: Spanish, English
Dimensions: 4.25″ (106 mm) x 5.5″ (141 mm)
Cover: Folded cover
Binding: Folded accordion book
Printing: Risograph printing (Moniker Press, Vancouver)
Colour: 3-colour
Edition: 100
ISBN: 978-1-988895-25-3
Copyright : Attribution-NonCommercial-NoDerivatives 4.0 International (CC BY-NC-ND 4.0 ) License. Content copyrights remain with listed contributors.
RML titles are available through exchange or free download. To receive this book by mail, follow the directions described here.
As 2022 Broken Pencil "Best Political Zine" Winner, this zine is available for sale ($25) here. All proceeds go to Dignidad Migrante.
RML subscriptions and purchases: Libraries and other public collections are invited to arrange to purchase a complete set or subscription of RML artist books, contact us at lightfactorypublications@gmail.com
This bilingual (Spanish and English) artist book is a folded guidebook to the interior of a US immigration detention centre. It is created from the perspective of an El Paso-based artist and graduate student who joins an official tour offered by the centre's administrators. The texts and notebook drawings serve as witness to the inconsistencies and thinly veiled human rights violations that are commonplace in the everyday operations of national border regimes.
En Marzo del 2020, las visitas al centro de procesamiento fueron canceladas debido a COVID-19. Mi acceso a las personas en el centro a través de mi trabajo disminuyó. Intenté escribirle a varias personas, pero mis cartas fueron devueltas por la oficina de correo o el centro de procesamiento.

By March 2020, visitation at the processing center was closed due to COVID-19. My access to people inside the facility through my volunteer work decreased. I tried writing to multiple people, but my letters were returned either by the post office or the processing center."