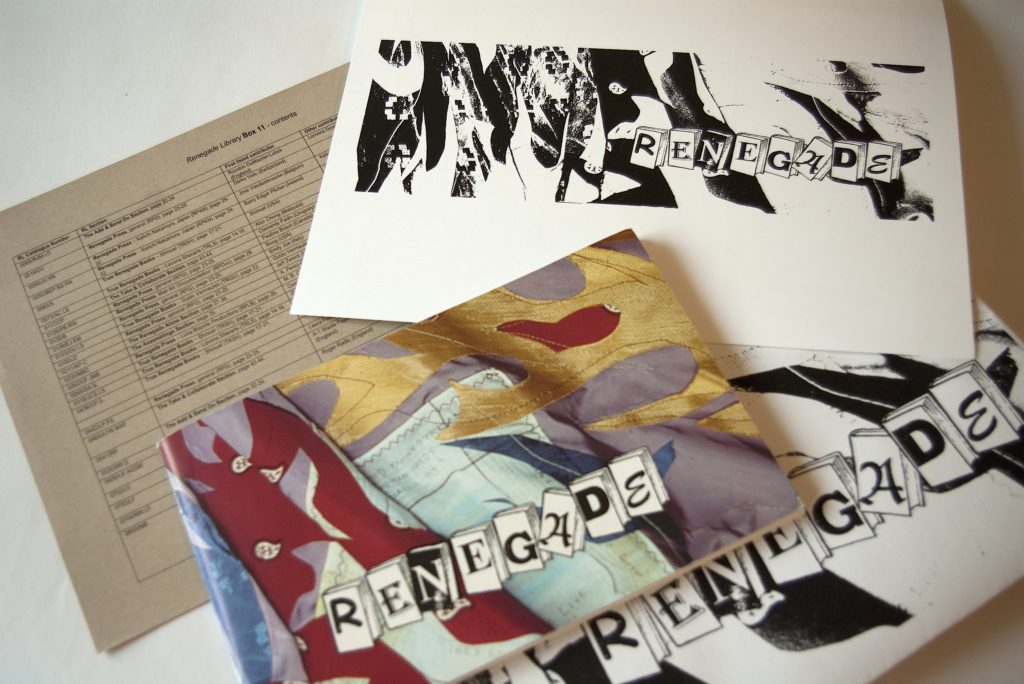 Title: Renegade Library Box #13
Artist (host): Lois Klassen
Contributors: There are numerous contributors to this project who are each listed on a catalogue inside each box
Date: 1998 and 2015
Language: The catalogue text was written in English. A Spanish language translation is available.
Box dimensions: 12 1/4″ (310 mm) x 10 1/4″ (260 mm) x 5″ (126 mm)
Cover: A black and white poster wraps an archival Hollinger Metal Edge box.
Edition: 20
Price: The boxes are freely distributed to active and public artist book collections and archives. One box is available to collectors for $2000 CAD (includes international shipping). This box contains 28 artist book titles from the 1998 mail art project, a catalogue from the original exhibition, 2 posters with the 2015 curatorial statement (one for packaging and one for archiving inside the box), and a full list of contents (with the catalogue numbers, names of artists and titles). To order, contact lightfactorypublications@gmail.com .
Also available from LFP – Renegade Library Poster with 2015 essay (box wrapper)
From 1996 to 1998, Renegade Library was a social practice and a collection of over 500 artist books. Originating with a mail art call for "collaborative mail art in book form," this project brought over 700 artists from some 40 countries into dialogue. Developed for an exhibition by Lois Klassen at the Art Gallery of Southwestern Manitoba, the collection included 'zines, assemblings, multiples, add & pass, miniatures, visual poetry, small presses, and much more. The archive, now in 20 mail-able boxes, are being distributed to public libraries and artist book collections around the globe.
Box #13 is of interest to collectors of mail art because it includes a modest contribution from Ray Johnson in Joe Decie's Bric-a-Brac, Vol 2, Issue 3 (catalogue # 0124/JD) and a memorial to Johnson who died on January 13, 1995. His death was marked in Eye re: Call (catalogue # 0185/RW), a book made of artworks that left from and returned to Reid Wood's fax machine from January to March 1995. Wood had begun this "fax art" project with a black and white image of his father who had recently died. That image was continually amended by 18 artists who received it, altered it, and sent it back, all using a fax machine. During the process, news of Ray Johnson's death reached these artists. An image of him immediately appeared, and tributes followed. Ray Johnson, at this time and following, was celebrated as the "founder" of mail art. He had been an active participant in many of these correspondence-based games with the artists involved in Renegade Library.
The other boxes in the Renegade Library archive are in circulation to accessible collections, found on this map and here:
Box #1 – Art Gallery of Southwestern Manitoba (Brandon, Canada)
Box #2 – Also As Well Too (Winnipeg, Canada)
Box #3 – Crista Dahl Media Art & Archives (Vancouver, Canada)
Box #4 – Emily Carr University Library (Vancouver, Canada)
Box #5 – Institute of American Indian Arts (Santa Fe, New Mexico, US)
Box #6 – Artexte Centre D'Information En Art (Montreal, Quebec)
Box #7 – Maurico Esquivel, Ernesto Bautisto, and Mauricio Kabistan Studio (San Salvador)
Box #8 – MoMA Archive and Library (NYC)
Box #9 – Wendy's Subway (Brooklyn)
Box #10 – Publication Studio São Paulo
Box #11 – Centro de Desarrollo de las Artes Visuales (La Habana)
Box #12 – LOTAD (Library of the African Diaspora, Accra, Ghana)
Box #14 – 37 Looe Street (Plymouth, UK)
Box #15 – RRD (Red de Reproducción y Distribución, Ciudad de México)
Box #16 – microutopías (Montevideo, Uruguay)