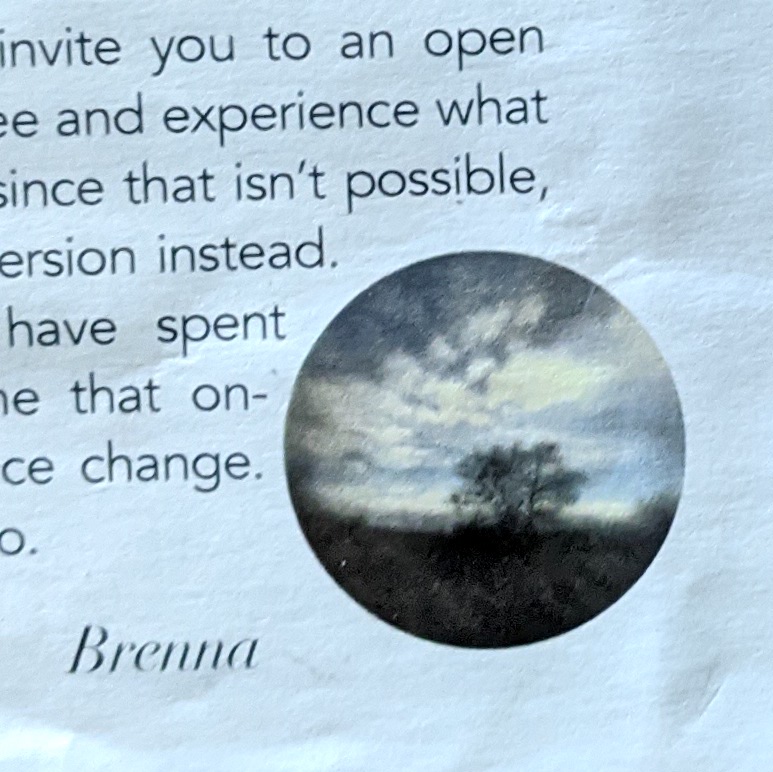 Earlier this month a beautifully illustrated folded flyer arrived in the mail box. Without adhesives or binding, this piece of mail art could be described as a postcard, a booklet or a structure that mimics, in its unfolding, a visit to Brenna Maag's home studio in Stó:lō country. Through the piece's writing and photos, Maag shares her gratitude for the way her place of work integrates outdoor and domestic spaces. Owing to her reading about Indigenous and relational approaches to land, time, and economy, Maag is working on ways of attending to and recognizing the gift exchange with the land using an old technology, camera obscura. Maag writes,
I think this project is relevant because we are constantly being asked for our attention. Our technologies are designed to persuade us to give up our attendion to what is presented in a visual format. This year, during the pandemic, finding solace and respite in the land has been such a gift for me. I learned that when I felt worried or anxious, when I didn't know how to help my kids, or support my parents, the antidote was being outside. As we have learned this year our relationships are one of the most important things in our lives…"
The pamphlet illustrates a model that Maag is building of a large scale camera that will be mobile, and able to accommodate visitors in groups. Maag also mentions making a "simple paper DIY mini camera obscura that can be mailed and assembled at home."
More on Brenna Maag's Camera Obscura is found on this website.
In exchange for this mail art, Brenna Maag was mailed copies of bosque brotante and Feeding the Migration (Painted Lady).