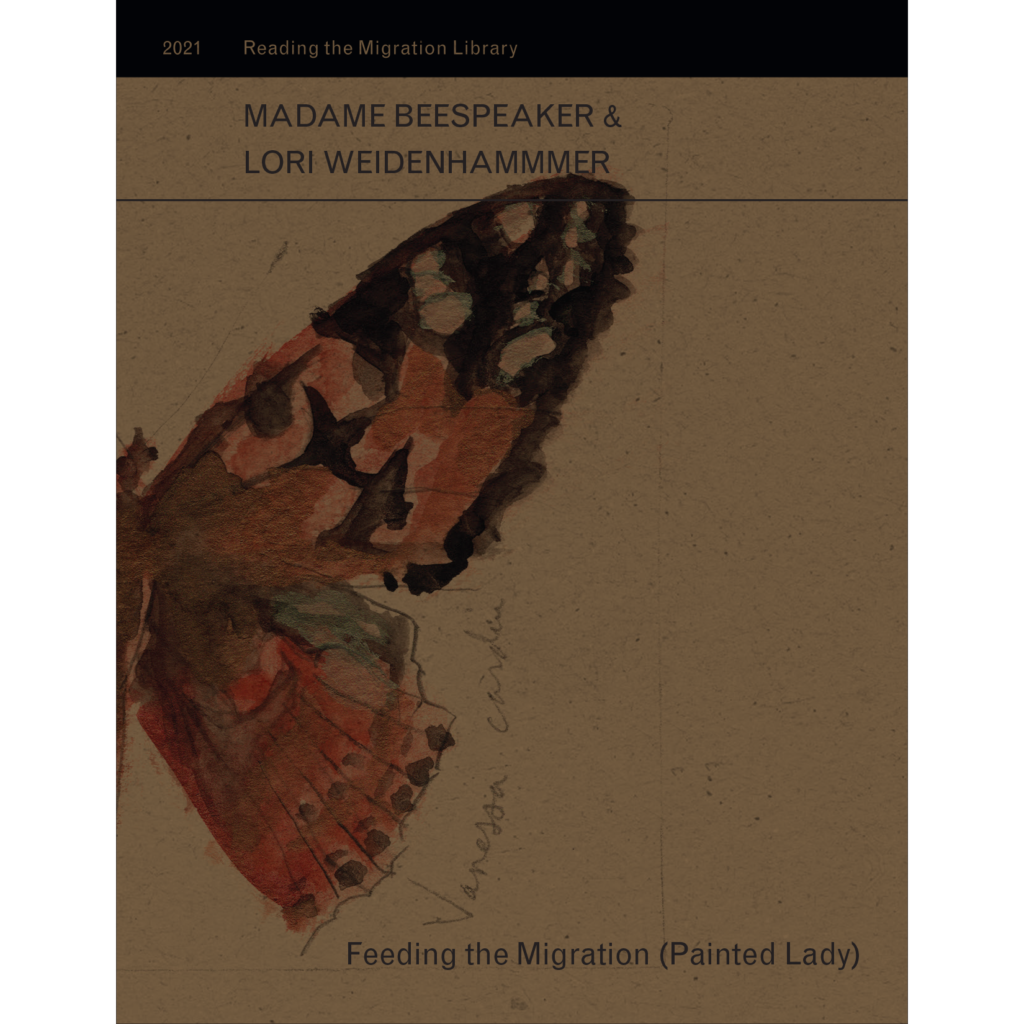 Title: Feeding the Migration (Painted Lady)
Artists & authors: Madame Beespeaker and Lori Weidenhammer
Poetry Editor: Kevin Spenst
Designer: Victoria Lum with Lois Klassen and Ruby Lewis
Date: 2021
Pages: 24
Language: English
Dimensions: 4.25″ (106 mm) x 5.5″ (141 mm) x .2″ (5mm)
Cover: Colour printing on kraft card
Binding: 7-hole hand sewn signature binding
Printing: Digital printing
Edition: 100
ISBN: 978-1-988895-24-6
Copyright : Attribution-NonCommercial-NoDerivatives 4.0 International (CC BY-NC-ND 4.0 ) License. Content copyrights remain with listed contributors.
RML titles are available through mail exchange or free download. To receive this book by exchange: Mail your artist books on migration or diaspora (or related mail art), with your requested RML title, and your address to
Reading the Migration Library
#204-2075 Yukon Street
Vancouver
Canada V5Y 3W3
RML subscriptions and purchases: Libraries and other public collections are invited to arrange to purchase a complete set or subscription of RML artist books, contact us at lightfactorypublications@gmail.com
Print copies are freely available through mail art exchanges, in person exchanges, and at cost to public institutions or mutual aid organizations. Contact lightfactorypublications@gmail.com for more information.
Plants seduce us so we will take them with us.
The seeds carried in the hems of garments,
intestines, testicles and wombs.

We are flesh-covered seed-carrying devices.
Our urges are to nurture, but also
disperse . . . "
With Feeding the Migration (Painted Lady), readers are invited into Madame Beespeaker's notebook to view field drawings and notes related to the well-known migrator, the Painted Lady Butterfly. Nestled inside the drawings, a set of poems by Lori Weidenhammer speaks about the mobility of insects, humans, and the seeds that they carry.