Light Factory Publications is excited to present the print edition of bosque brotante, in the Present Cartographers Series.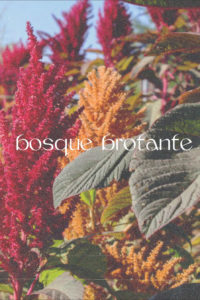 bosque brotante by Daisy Quezada Ureña documents conversations about ecology and culture that took place along the Rio Grande in 2019. The publication is a piece of a larger artistic and ecological consideration of the Rio Grande–or bosque, as it is referred to in some parts of New Mexico–from Santa Clara Pueblo and Cocheti Pueblo in New Mexico down to San Agustín, Chihuahua, New Mexico.
The conversations, textiles, and ceramics exchanges, as well as the book itself, are all inter-linked components of an artwork by Daisy Quezada Ureña that was produced for the 2019 exhibition, Species in Peril Along the Rio Grande (Josie Lopez and Subhankar Banerjee, curators; September 18 – December 18, 2019, 516 Arts in Albuquerque, New Mexico).
The print copies, with embossed glossy covers and full colour photos printed on natural-toned stock, are available with proof of donation (at least $20USD or $25CAD per copy) to an organization that supports the protection of endangered ecologies or Indigenous cultural resurgence, such as:
To receive a copy by mail, email your request with a mailing address and evidence of your donation to lightfactorypublications@gmail.com
Three conversations are featured in bosque brotante from three sites in the Rio Grande region. In the first, Beata Tsosie-Peña, a long-time environmental activist from Santa Clara Pueblo and member of Tewa Women United, with Marian Naranjo, a community organizer, founder and director of Honor Our Pueblo Existence (HOPE), discuss the river as a part of Tewa World. Their experiences of threats to the river, most notably the toxic effluent and fires resulting from Los Alamos National Laboratory, are brought into sharp focus. Jonathan Loretto, a potter and educator for Cochiti Pueblo, with Roxanne Swentzell, a ceramic artist, Indigenous food activist and leader in permaculture education from Santa Clara Pueblo, discuss together the history of containment and imposed colonization on the control and management of waters. Finally, Professor Manuel Robles Flores from San Agustín, Chihuahua, founder of el Museo Regional del Valle De Juarez—among other community programs and social services— joins Oralia Prieta Gomez, Susana Landeros Moreno and Ana Jazmin Rodriguez in a discussion of the river's flora and fauna, it's histories, as well as the way Mexicans have resisted the racismo ambiental (environmental racism) of plans to build nuclear waste disposal sites nearby in Texas.
The book also includes an introduction by Daisy Quezada Ureña and an afterword by editor, Lois Klassen. The book was designed by Rufino Medrano.
The print publication included embossing in the print studio of Institute of American Indian Arts (IAIA) with the assistance of students.
In the exhibition three ceramic seed-shaped objects made from textiles exchanged between the contributors and the artist, sat on soil from the locations of the conversations. The soil and the ceramic pods were set into three industrial metal drums. As a final action in this artwork, Quezada Ureña the ceramic pods and the soil they sat on, as well as copies of bosque brotante, will be returned to their original sites.
The Present Cartographers series features publications in which artists examine the places and people who occupy border geographies and languages.