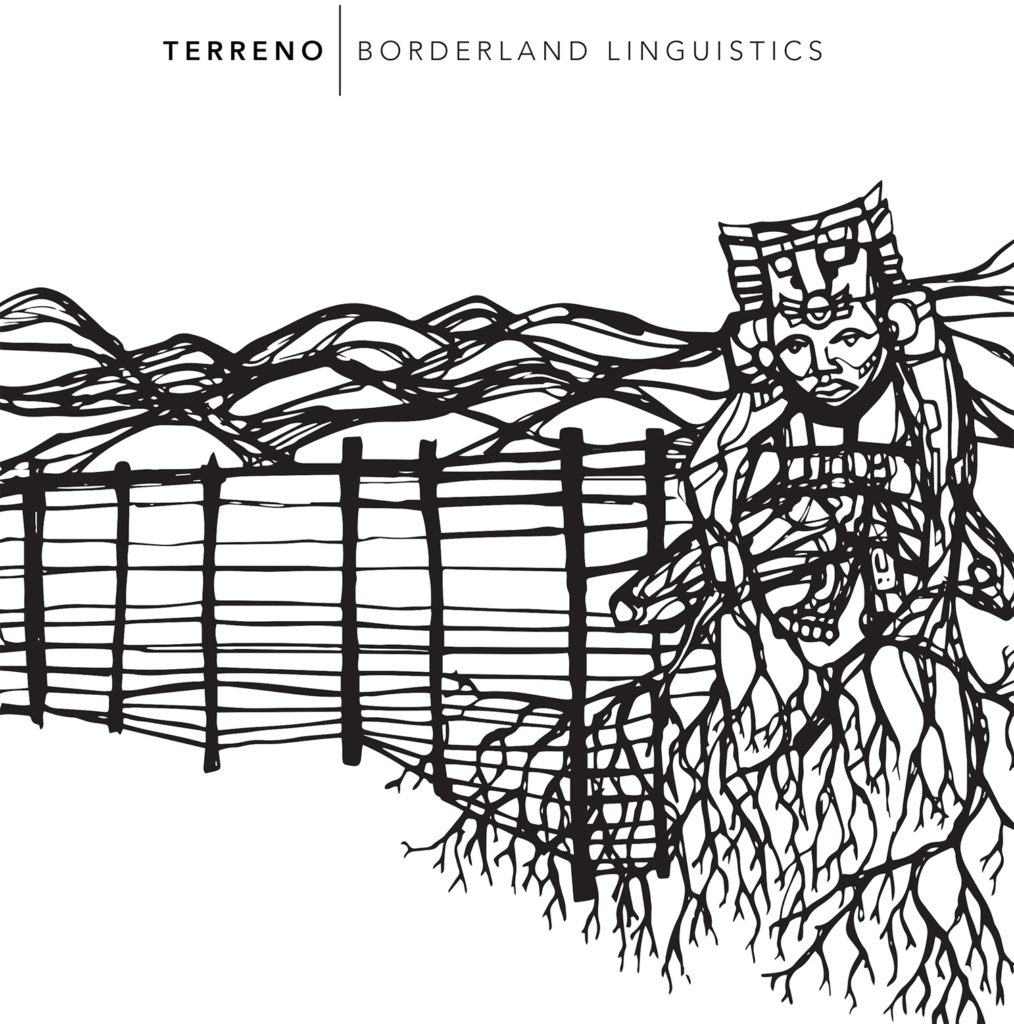 Title: Terreno: Borderlands Linguistics
Artists: Alice Leora Briggs, Tings Chak, Israel F. Haros Lopez , Gelare Khoshgozaran , Carolina Rubio MacWright, Julián Cardona , Kemely Gomez, Sheena Hoszko, Oszaldo Ramirez Castillo , and Tara Evonne Trudell
Editors: Sylvia Arthur, Lois Klassen, Daisy Quezada Ureña
Designer: Rufino Medrano
Date: 2017
Series / Project: Present Cartographers
Language: English / Spanish
Pages: 24
Dimensions: 11" (279 mm) x 8.5″ (215 mm)
Cover: soft cover
Binding: saddle (staple) binding
Printing: digital printing
Colour: full colour
ISBN: 978-0-9781082-6-7
Copyright: Works in the Present Cartographers Series are licensed under a Creative Commons Attribution-NonCommercial-NoDerivatives 4.0 International License. Content copyrights remain with listed contributors.
Terreno: Borderlands Linguistics is a publication comprising innovative texts and print-based artworks showcasing the spectrum of art produced in response to the ongoing immigration / emigration crisis, a global phenomenon with a huge local impact. Terreno: Borderland Linguistics in the Present Cartographers Series was assembled by a collective of editors who write, "This chapbook is emerging from a piece of ground, terreno – perhaps a place in which people gather to make art and write about a specific social and political theme; or a place of tradition and ancestry from which people are forced to leave; or, a new territory in which land disputes are nearly ancient, where the land itself might be described as blood soaked."
Editors
Sylvia Arthur (Ghana and UK), Daisy Quezeda Ureña (US) and Lois Klassen (Canada) collectively edited Terreno: Borderland Linguistics in 2017. Many of the artists, writers and performers included in the publication participated in Santa Fe Art Institute's Immigration/Emigration residencies, alongside Arthur, Quezeda Ureña and Klassen. In Terreno, the editors focused on situated and practice-based approaches that reflect resistance to dominant political frameworks and oppressions in border regions.
Designer
Rufino Medrano is a Los Angeles-based graphic and 3D designer. A graduate of Santa Fe University of Art and Design, Medrano is an Art Director at Javelin Agency.