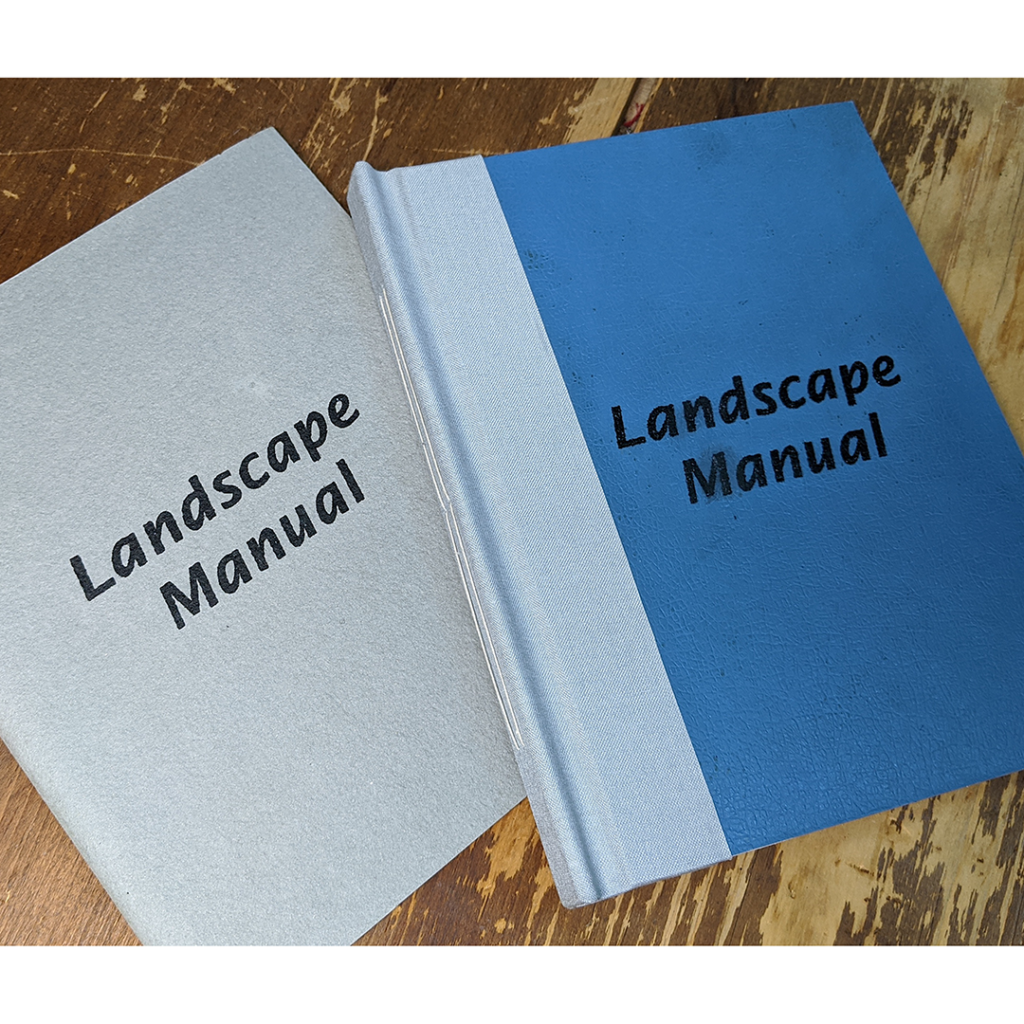 Title: Landscape Manual
Artists: Lois Klassen, Guido Vermeulen
Designer: Lois Klassen
Date: 2007
Pages: 64
Language: English
Dimensions: 6.5″ (165 mm) x 8″ (240 mm)
Cover: for the "regular edition" the cover is made from hand-made paper (Reg Lissel) that is screen printed on both sides; for the "deluxe edition" – hard covers are made from discarded book covers and lined with screen-printed end pages
Binding: For the "regular edition" – 2 signatures are hand-sewn with long-stitch using a double signature binding; for the "deluxe edition" – 2 signatures are sewn directly onto a rigid spine with long-stitch binding and exposed linen thread.
Printing: Silk-screened covers; digital printing for the text blocks
Colour: One signature is printed in colour (on glossy paper) and one signature is printed with black ink on grey paper
Edition: Regular edition – 10; deluxe edition – 10
ISBN: 978-0-9781082-1-2
Price: Regular edition – $45; deluxe edition – $60
A book of visual poetry in two parts: Landscape is a section with twelve colour reproductions of landscape-like images created with collage and assemblage, and Manual is made up of the twelve poems that respond to the images. Each artist created 6 images which were exchanged with the other through the postal system (mail art). The poems were written in response to the images that were received. The entire project is a response to the mail art project, Reading the landscape by Elaine Rounds.
The title, Landscape Manual is intentionally borrowed from a wad of typed, scratched out, and photo-illustrated pages that Jeff Wall assembled, copied onto newsprint and then sold for 25 cents at the University of British Columbia Fine Arts Gallery in 1970. This book seeks to layer consumption and desire (appetite and heart), of the artists and their social world, over meager remains of a natural world.