This year's Vancouver Art Book Fair that just ended, offered alternatives to commercial circulation of physical objects that is typical in this vendor-style event. As a proponent of free digital and mail art book exchanges, RML noted some outstanding digital downloads on offer.
Although art book fairs are peculiar offspring of international art and book fairs, what is seen and experienced (even virtually) exists on the margins, or outside of the margins, of any lucrative marketability and commercialization opportunities in conventional art and publishing worlds. The artists books and other pieces of independent publishing that are on view at art book fairs tend to be in small volumes or even as one-off's. Their subject matter and aesthetics tend towards being deliberately challenging of capitalism and thus with no easy circulation through local or international commercial venues. The programming at Vancouver Art Book Fair that was curated by Eloisa Aquino of B&D Press (Montreal) further focused on artist book production and projects from groups and individuals who face a myriad of challenges in reaching audiences and networks, particularly those who produce work in and about the majority world. While purchasing artist books from these international vendors is an excellent way to support their work, shipping across international borders is difficult and often prohibitively expensive for both the senders and receivers. Aquino's programming suggested that accessing content (not just the physical items) through events and networks could help to offset the difficulties of transport of ephemeral items across geographies. This focus on alternative exchange of content is needed now more than ever, of course, with the enduring impact of the pandemic. RML developed models for free downloads and mail art exchanges to accommodate the difficulty in actualizing face-to-face events like 'zine or chapbook exchanges and readings. So, even though the virtual format of VABF was designed as a sales venue (with a listed price as the icon to click to access presented works), there were a number of notable pieces that were offered by way of download, and were promoted through the fair's programed events.
Some standouts: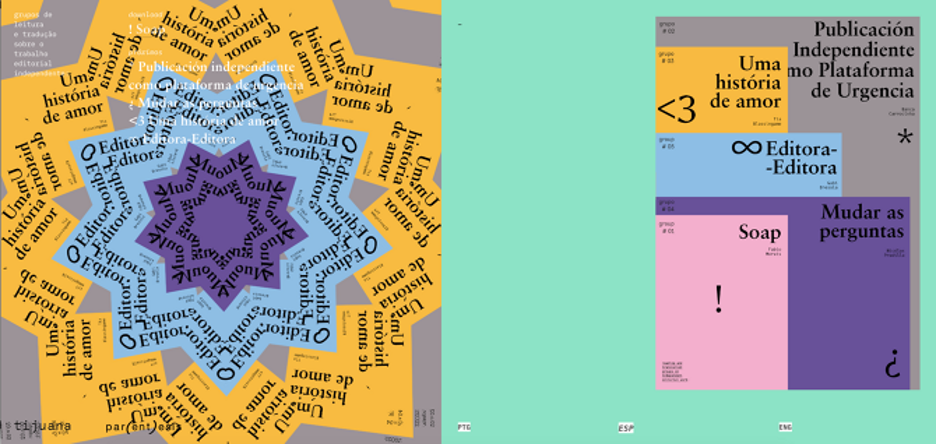 Grupos de leitura e tradução sobre o trabalho editorial independente / Reading and translation groups on independent editorial work – In response to pandemic-related closures, the São Paulo based Tijuana, along with par(ent)esis, produced this set of inter-connected pamphlets. Each of the four are available as pdf's for viewing as well as printing. Together they reflect the resources and translations that the hosting groups thought were important to inspire artist book producers in South America. Each is a translation between English, Portuguese, or Spanish. They cover: a history of independent publishing from a Brazilian perspective, a manual for self-publishing with "how to" tips, a love letter to independent publishing, and a critical essay on the political and economic aspects of independent publishing. The website and content are accessible for readers of all three languages, but each of the four items in the set land on only one of the three languages–and one of the four unique page sizes. Its a brilliant experiment in translation across design, writing formats, and languages.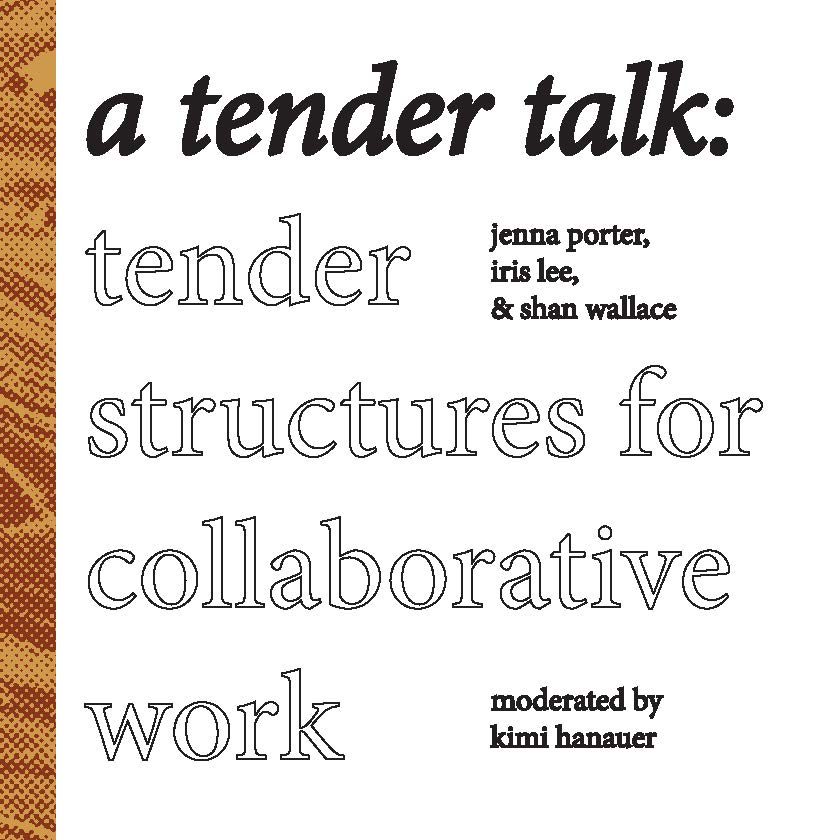 Press Press in Maryland aims to develop "Exchange Economy" through open-access publishing and by offering workshops that prioritize refugee and immigrants. Their vendor table offered a number of free downloads, including A Tender Talk: Tender Structures for Collaborative Work by Jenna Porter, Iris Lee, and Shan Wallace. The piece reflects the writers' dialogue about survival and resistance tactics in their art practices, through images and scenarios.
The writer and publisher Christopher Rey Pérez read a new work on the final event of the VABF. His text REYNOSA is freely available by download. Published by The Elephants in 2018 in their "Ephemeral" series, REYNOSA describes life at the Mexico/US border through the writers' daily crossing into Mexico from his hometown in Texas.
Finally, from Canada, The Transgender Archives: Foundations for the Future (2nd ed. 2016) by Aaron Devor, and the University of Victoria Libraries, appeared at VABF as a beautifully produced digital book that is easy to access here.
Lois Klassen, October 27, 2021