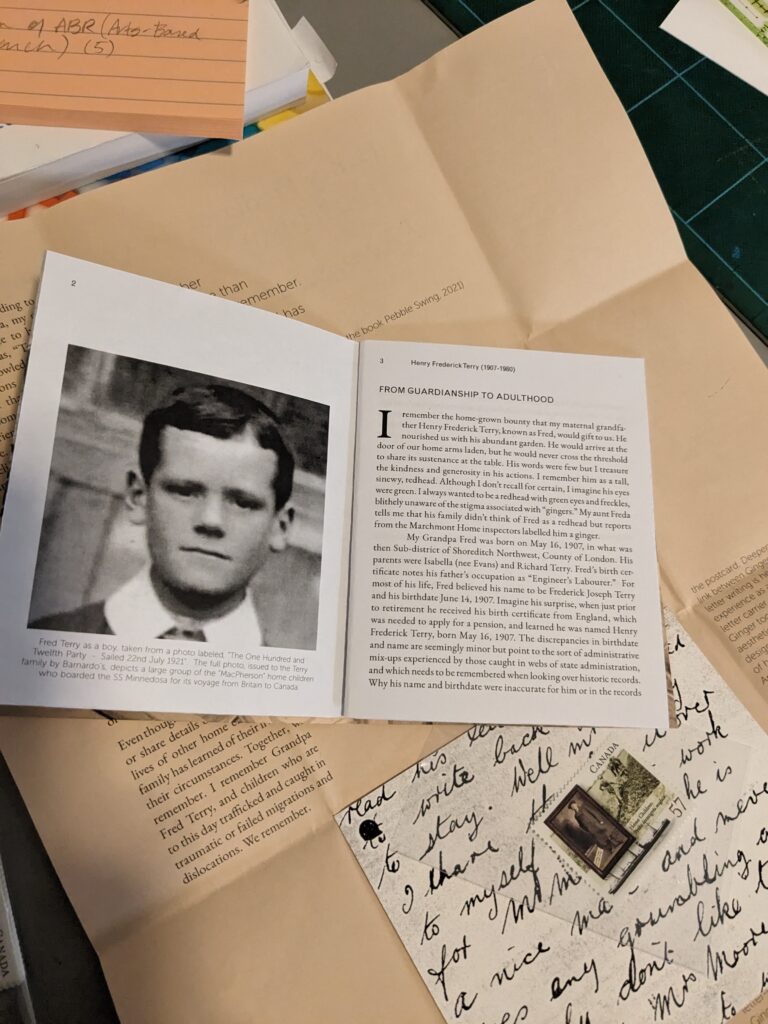 On Labour Day, Canada's complicity with child immigrant labour is the theme at Reading the Migration Library headquarters. We are busy assembling the latest community publication, "Henry Frederick Terry (1907-1980) ~ I Remember" by Ginger Mason (Victoria). Here's how it starts:
"From the 1860s to the late 1930s the Government of Canada as well as Australia sanctioned indentured servitude of children from Britain as a prolonged strategy to address labour shortages in the colonies. Cloaked in philanthropic good intentions, the Home Children scheme relieved British ratepayers from taking responsibility for widespread poverty and for children caught in that disadvantage…
The artist book (comprised of a broadsheet, postcard, commemorative Home Children postage stamp circa 2010, and little booklet) recounts the intergenerational impacts of government-sanctioned policies to place children as settler labourers, through the story of Ginger Mason's grandfather. A sister RML publication from 2017, Charlie Henry Workman (1897-1976) ~The Unspoken by poet Franci Louann similarly recounts the home child story of Louann's father. (Watch for Henry Frederick Terry (1907-1980) ~ I Remember to be released on this website in October 2023.)
Print copies (from the edition of 100) of "Henry Frederick Terry (1907-1980) ~ I Remember" by Ginger Mason will be presented in the UK during Lois Klassen's artist talk and artist book exchange at 37 Looe Street, Plymouth, UK on September 19, 2023.
Thank you to Ginger Mason and the Terry family for sharing this story.
Additional gratitude to Deanne Achong (design), Kriss Boggild (copy editing), and Comox Valley Art Gallery for a residency in June that enabled Ginger Mason and Lois Klassen to complete this text.