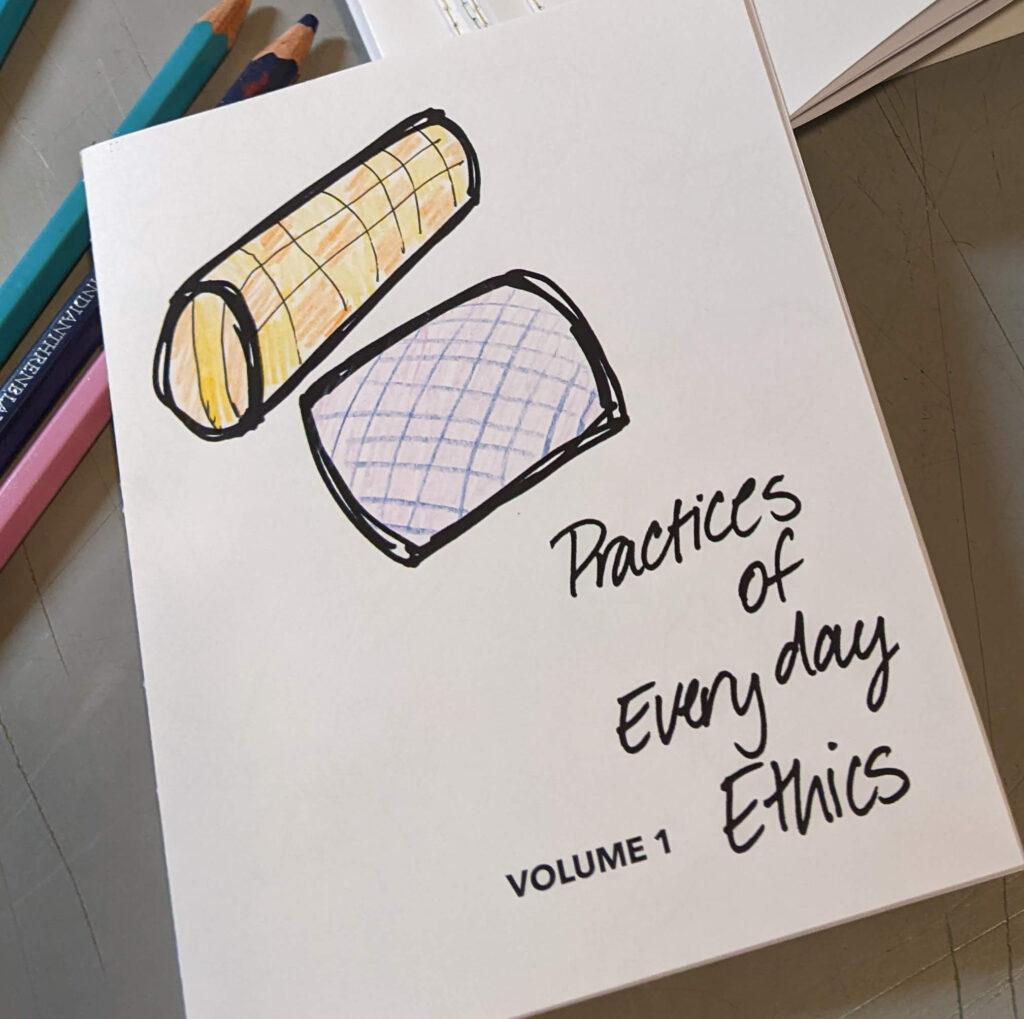 Title: Practices of Everyday Ethics, Volume 1: Yoga Bolsters & Dog Beds
Author: Lois Klassen
Date: 2023
Series: Practices of Everyday Ethics
Pages: 24
Language: English
Dimensions: 4.25″ (106 mm) x 5.5″ (141 mm)
Colour: Black ink on white paper. Suitable for hand colouring.
Binding: Sewn with sewing machine (straight stitch on spine)
Printing: Digital printing from Copies Plus, Vancouver
Edition: first edition of 100
ISBN: 978-1-988895-31-4
Copyright: Attribution-NonCommercial-NoDerivatives 4.0 International (CC BY-NC-ND 4.0 ) License). Content copyrights remain with listed contributors.
Download below or contact us for a free 'zine exchange:
An everyday ethical challenge is keeping textiles out of the trash. Textile disposal is environmentally damaging and costly—so much so that the City of Vancouver has urged residents to take a "zero waste" approach to textiles. Unfortunately, that isn't easy…

…This 'zine offers one an option for repurposing rags and textile pieces after reuse and repair options have been exhausted. To kick off a series of 'zines about practices of everyday ethics, making yoga bolsters or dog beds is presented here as a system of managing textile waste. Through this "practice", you can put textile scraps into continual use and reuse. If you learned to use a blue bin, you can learn to make yoga bolsters and dog beds!"
Yoga Bolsters & Dog Beds, the first 'zine in the series Practices of Everyday Ethics, was created for the outdoor event, Fairview Eco-Gathering in Vancouver, Canada (August, 2022).